Introduction
IBEX is a cutting-edge digital battery quality tester by all IEEE std. recommendations for all the stationary applications such as telecommunication's bank up power, utility switching power, UPS and etc.
IBEX measures internal ohmic resistance, voltage, temperature with the world's first ripple-removing algorithm(USA patent: US 7,567,085B2) during floating charge.
IBEX-BT - Data download Application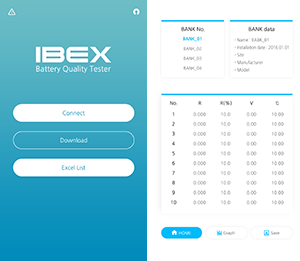 Measurement data is directly uploaded to IBEX Mobile Application with Bluetooth communication at site.
It is possible to check data as graph and Excel file sharing on your smart phone.